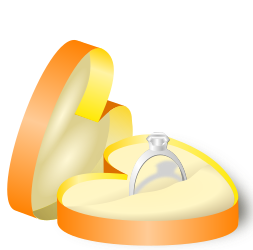 Wedding favors
are a special token that the bride and groom give to their guests in appreciation of their attendance and support, and it should be something extraordinary that will be a lasting memento of your celebration that will last for years to come. What you choose to give your guests is up to you. Weddingstar provides practically any kind of wedding favor you can think of. Match your style, your wedding theme, your personality, or anything else. The most important thing is to make it personal and unique to your ceremony.
Wedding favors are quite popular worldwide, and they vary from country to country. One interesting symbol that seems to be quite prevalent is that of giving a favor that contains five candies. These candies symbolize one of the five traditional wedding wishes: health, wealth, happiness, fertility, and longevity. Imagine the possibilities of adapting an old-standing tradition like this and even incorporating these wishes into your favors. There is nothing like blending old and new concepts together to truly appeal to a variety of tastes and make for a meaningful memory.
The nice thing about beautiful wedding favors is that they often can double as decor at your ceremony. Maybe you can set up a table next to your cake table and place an attractive display created or accented by wedding favors. This is where bottle stoppers or special keepsake favors can really come in handy. Assign an attendant to these favors so that all your guests receive them. Or maybe you wish to display them at each reception table. In that case, make sure that someone announces to the attendees to pick up their wedding favors before they leave.
It is often said that wedding favors are the most important part of your wedding decor, and Weddingstar can help you select personalized, practical, and affordable favors. Their selection and variety is one of the best you will ever find, and their design team specializes in helping couples find favors that your guests will never want to throw away and will remind them of the best wedding they ever attended--yours!