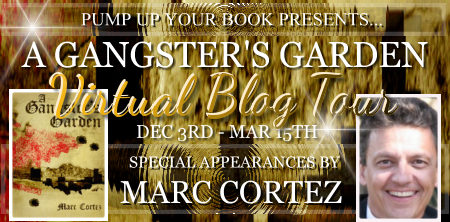 Join Marc Cortez, author of the crime drama A Gangster's Garden, as he tours the blogosphere December 3 through March 15, 2013 on his first virtual book tour with Pump Up Your Book!
Deep in the heart of Denver's Five Points varrio, an innocent teenage boy is killed in a gang-related shooting.
The intended target, gang-leader Benicio de los Santos, assembles his Latin Disciples into a Denver basement to plot their revenge. Does it matter that the hit planned for him killed an innocent boy? No. What matters is how careless his main enemy, the Sureño Daggers, have become. His cholo brethren demand the bloody removal of their enemy's chief, King Diaz, and the quick takeover of Sureño drug turf. But Santos recalls a lesson from Sun Tzu – that true generalship destroys rather than counters enemy plans – and so commands his soldados to do nothing. He'll avenge his wife and son's murder on his terms, when he decides.
Across town, a family struggles to come to terms with their son's murder. Businessman Miguel Rodriguez wonders what led his son down to the varrio in the first place, the very streets he'd fought so hard to overcome. He'd renamed his son precisely to distance him from their varrio past, despite the repeated protests of his wife Carmela. Wouldn't life as a white Julian Ross, mingling with Denver's elite, offer more than a brown Julio Rodriguez? They'd fought about the name change for years. And now, with Julian gone, Miguel realizes that the only way to find his lost son is to return to his childhood streets.
A GANGSTER'S GARDEN is a story of murder, faith and redemption, set in Denver's Five Points varrio.
Marc Cortez began his storytelling career in the third grade, when he entered a school writing contest and won with his story THE ANT WHO STOLE EASTER. Since then he has become a marketing writer and frequent blogger, leveraging his writing skills into success as a business executive and entrepreneur. With A GANGSTER'S GARDEN, he has turned his lifelong passion for storytelling into a full-length novel.
Mr. Cortez studied creative writing at the University of California, Los Angeles, and lives in California with his wife and two children. A GANGSTER'S GARDEN is his first novel.
To purchase A Gangster's Garden, click here.
The magic of self-publishing! (Author Guest Post)
When I finished my first novel A GANGSTER'S GARDEN last summer, I felt such a huge sense of relief and accomplishment. After all, I'd worked on this book for nearly 8 years, logging countless hours on airplanes, Starbuck's, book stores – you name it. I'd spent so much time developing characters that they actually spoke to me in my dreams; at times it felt schizophrenic because I constantly had voices whispering inside my head. I created these people and they, in turn, spoke to me. I'd grown to know every crack in the world I created: every splash of gang graffiti, every gang sign painted onto brick walls, every broken down alley in Denver's Five Points varrio. So when my sister-in-law asked me "OK, you've finished writing, now what?" I had absolutely no idea.
I'd spent 8 years writing, and absolutely no time at all thinking about what would happen when I finished. Time to enter the world of…say it with me…PUBLISHING.
A few dozen agent query letters into it, I realized that the math wasn't on my side as far as finding an agent goes. First you need to identify your genre (not as easy as it sounds, especially if your book spans multiples genres, which mine does). Then you need to find agents who specialize in your genre (also not that easy to do). And last but not least, you need to craft that PERFECT QUERY LETTER that will magically rise above all of the other emails and letters that your prospective agent gets...well, you get the point here. The odds are quite long against the debut author.
But the rise of self-publishing promises to change all of that.
Within a month I had my ebook available on Amazon, Barnes & Noble, Smashwords (the iPad), and Sony; and my paperback available on Createspace.com. And then doing an online book tour like this – using the services of Pump up your book and

Mydevotionalthoughts.com

, for example – allows an author to not only get his and the book's name out there, but tap into an audience base quickly. Suddenly, I'm published and fully engaged in getting the book out there into the public. One of my first sales was to a reader in Germany: someone eight thousand miles away bought my book about a botched murder between rival Denver street gangs! I find that kind of instant reach amazing.
So will publishing and promoting my book myself bring a book deal? Who knows, but that's hardly the point. In going through the self-publishing process you answer all the questions a potential publisher would ask. You'll decide your genre (men's fiction, in my case), the top character points, your clear and easy-to-communicate plot line – all things you knew while you were writing but never had the chance to summarize until you published. You of course know your characters and plot better than anyone, but it's not until you begin to discuss it with the outside world will you find the true hooks that will help you shape your marketing. This is what a traditional publisher was going to do for you anyway, so you've just given it all a head start. And after you've done most of the work, will you really need them?
Write, publish, and promote!
To follow the entire tour, click here. Enter the Kindle Fire giveaway below. It ends on March 15, and it is open to U.S.
a Rafflecopter giveaway