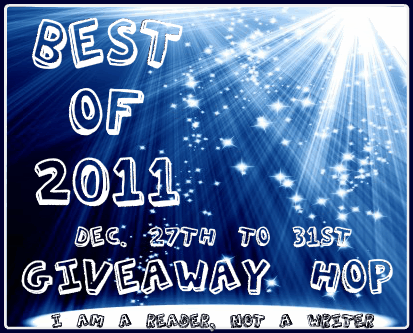 The year is quickly coming to an end. It's time to spotlight the best reads of 2011. Join me in a giveaway hop! Thank you to I Am a Reader, Not a Writer for hosting this hop!
For this giveaway, two of my international readers will receive a copy of one of my favorite reads of 2011 as long as the book is $15 or under. The great thing about this giveaway is that is coinciding with this week's "Best of 2011" blog hop. In order to participate, you will need to check out any of the posts in that series. I only have the first post up (since I just began yesterday), but you can check them all out as I post them.
You will notice in the rafflecopter form that you need to pick one of them. That is the main requirement. Hopefully, my tastes are diverse enough that there will be something you can find (or maybe you can find something to pass on to someone else).
This giveaway will end December 31 at 9 P.M. Pacific time. So be sure to get your entries in here and hop along to the next giveaway!
Exciting news! I just contacted Dr. Rob Pennington, the author of Find the Upside of the Down Times. I told him that a couple of you were selecting his book as the book that you would pick to win. So he has agreed to add a signed copy of his book to this giveaway! So I will add this to the rafflecopter form! So there will now be three winners!
a Rafflecopter giveaway