He is one of the best-known film directors of our time, and it was on this date in 1946 that Steven Spielberg was born. The first movie he directed was
The Sugarland Express
with Goldie Hawn. But his first blockbuster was
Jaws
in 1975.
It became the first movie in history to gross over 100 million. Similar box office success was achieved with his next film in 1977.
And then in 1981, Raiders of the Lost Ark came out thus creating the series of Indiana Jones films that would follow.
One of my favorites came out in 1982--E.T.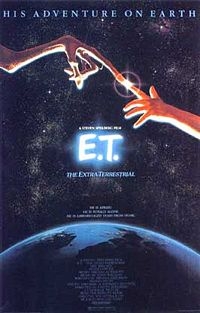 The blockbusters continued. I am just going to list them now--there are so many!
The Color Purple (1985) 11 Oscar nominations
Hook (1991)
Jurassic Park (1993)
Schindler's List (1993) Best Director Academy Award
Saving Private Ryan (1998) Best Director Academy Award
And of course, his most recent work will be coming out on Christmas Day.
Here are the websites where I not only got links but also images: