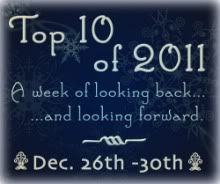 Okay, this is not something that I generally do. A lot of book bloggers get into "covers," and most of the time, I could care less. However, since I agreed to do this blog hop, I figured I needed to follow the rules.
For this Top 10 post, I will be sticking to books that I have read this year, not just ones that I thought the cover was cool. The cover needs to be neat, but I must have read it!
#10:
A very nice, serene cover. It looks exactly like what it is. A calm, refreshing book that will encourage you in your faith. Just like a beach can refresh your soul.
#9:
I will be the first to tell you that this is not my favorite book, but the picture on the front sets up the story of the novel quite well. What you see is what you get.
#8
Again, the cover hints at what is within the pages of this story. It is a sweet romance--in fact, it is a clean romance. My favorite summer read, for sure. And the cover brings back all the memories!
#7:
What you see is what you get. This is a Western romance, and the cowboy on the front is the cowboy in the book!
#6
This cover looks hot, but I was glad to know that there were no really steamy sex scenes (except between the husband and wife). And if you compare it to other romance covers, I think you can tell that it is only a hint at a scandal. I began to like the cover the more I read it.
#5
Too bad that covers are sometimes better than the books themselves. Definitely true here. I basically chose this book based on the cover. It looks kind of neat, but the book was one of the worst I had ever read.
#4
Again, the cover is better than the book. I picked this book because I liked the cover. I expected the book to be thoroughly engaging like so many historical fiction reads. Too bad it was a disappointment.
#3
#2:
At least this was what I thought it would be. The cover did not lie. It was a sweet, Christmas romance. Not my favorite book, but the cover indeed hinted at the story correctly!
#1:
It was pretty far up the list yesterday, and now I have placed it at the top of today's list. I put this at the top of the list because the cover is ideal. It invites the reader to discover who this woman was. The title is quite intriguing, and the cover reinforces that.
While today was not as much fun as yesterday, it was still good to go back through my reviews! Looking forward to tomorrow!