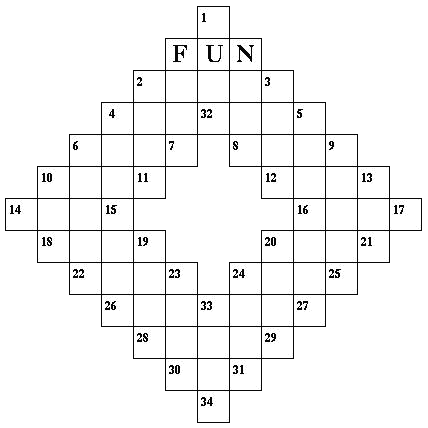 Yes, indeed folks, this is the first known published crossword puzzle which appeared on this date in 1913 in the
New York World
. It was originally called word-cross, and it was created by Arthur Wynne.
He based it on a game he played as a child--Magic Squares. It is said that the real first crossword puzzle appeared in England during the 1900's. The difference with Wynne's was that it appealed to adults and soon became a favorite adult pastime.
By the 1920's, newspapers all over the U.S. were regularly featuring these puzzles, and in 1924, Simon and Schuster published the first book of crosswords.
Would you like a chance to solve the original? Click
here
.
For more information on this topic, check out these sites:
http://frogstorm.com/?p=3011
http://inventors.about.com/od/cstartinventions/a/crossword.htm