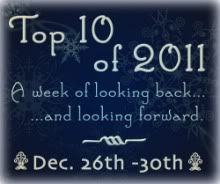 True to my word, I am participating in the
blog hop
I told you about. Today I will be telling you about the top 10 books I read this past year. I will link you to the review and tell you why I chose that book.
This was actually easier than I thought it would be in many ways (other than I probably could have added one more--I think I will add an honorable mention.)
I will do this an actual countdown.
#10
Blaze of Glory by M.Garzon
I feel like I absolutely must add this one. It was a book I thought I would never enjoy, and yet I found myself absolutely loving the romance and the relationship between the main characters. Not only that, but I feel like I have developed a love and appreciation for horses that I did not have before. I just had to make room for this in the countdown.
#9:
This is a wonderful little book that I truly enjoyed reading. It is written by Catholics, but the truths found in the book are life-changing and uplifting. It is a quick read, and it is one that I think everyone could enjoy.
#8:
The Woman in White by Wilkie Collins
This is the only classic I will add in the list. I truly enjoyed it, and it was not a slow read in any sense of the word. If you like mysteries, you will like this book. It is easy to understand and quite gripping even in spite of the age of it!
#7:
The Book Thief by Markus Zusak
I hate to put this so far down on the list! This was one of those books that is so unusual and out of my normal genre--except that it is historical fiction. Imagine a story narrated by Death! Anyway, It definitely earns its rightful place in the Top 10!
#6:
Quiet Strength by Tony Dungy
Again, this is a book that would not normally interest me. I only read it because of the great amount of respect I have for Tony Dungy. I actually enjoyed reading about football--go figure! But Dungy's faith is so strong, and that is what carries this book. I liked it so well that I am currently reviewing another book of his.
#5:
Finding the Upside of the Down Times by Dr. Robert Pennington
And this one is a definite one. One of the best self-help books I have read--ever! I do not know why more people have no caught on to this book. The author is very down-to-earth and approachable. And if this book does not uplift your spirits, nothing will!
#4:
It's All About Him by Denise Jackson
This is a definite read for anyone who loves country music or just enjoys a simple story of how God works in everyday life. It is a true story, and the "him" is not who you might think it is! I was so encouraged after reading this book, and I cannot recommend it highly enough!
#3:
Exit the Actress by Priya Parmer
This book was brought to my attention through a group on
goodreads
. I think I read it a month after it was the group read, but I truly enjoyed it. This is historical fiction at its finest! I was not aware of the historicity of the main character of this book, and the author does a fantastic job of painting each of these historical figures. I often forgot I was reading fiction! If you have not read it, and you have any interest in historical fiction, please check it out!
#2:
The Daughter's Walk by Jane Kirkpatrick
And another historical fiction book that is unbeatable! I actually put this one at number two because it is Christian in perspective without being "preachy." The historical event on which the book is based is completely true, and it happened in my own backyard! The story that the author weaves around the main character is absolutely compelling. A must read for historical fiction enthusiasts!
And #1:
Something Inside of Me by Chitoka Webb
I struggled with this one, and I wasn't sure if this would be my top read for 2011. This was a book that completely changed my perspective on life. In fact, even today I find myself going back to her struggles and saying to myself, "If Chitoka could make it through, I can too!" The author herself gave away 10 copies of her book--they even ended up being 10 print copies even though that was not the original plan. She is one of the best authors with whom I have ever worked, and I can't thank her enough for sending me her book to review. Her book continues to hold a special place in my heart.
Well, that wraps up the first of these Top 10 of 2011 posts. I truly enjoyed writing this post, and I look forward to doing it again tomorrow and reading some others (if I have time!).
Be sure to go
here
to see the full linky list for other great posts like this one.