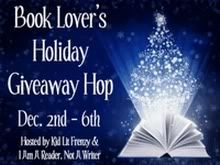 Welcome to The Book Lover's Holiday Giveaway Hop which runs from Dec. 2nd to 6th.
Thanks to Kathy from I'm a Reader, Not a Writer for hosting and Alyson from Kid Lit Frenzy for co-hosting.
The winter holidays are just around the corner. Celebrate by participating in this holiday giveaway hop with prizes just for book lovers.
I am doing something little different this time. My giveaway will be open worldwide, but I am not going do the standard online bookshops. I thought I would give away a $10 e-certificate to CBD. I'm not sure if you are familiar with the site, but it has all sorts of gifts that would appeal to book lovers (and others!). They do ship outside the U.S., and I did not feel their shipping fees were unreasonable.
Here's the other interesting twist. If I receive over 500 valid entries in this giveaway, I will add a second prize of a $5 e-certificate to CBD.
After you have entered my giveaway in the rafflecopter form below, be sure to hop on to the other giveaways! This giveaway will end December 6 at 9 P.M. Pacific Time.